Last February, Python Indonesia, had a meetup. We have four speakers this time. The topics are: network programming, EmeraldBox web application framework, sqlmap, and fabric.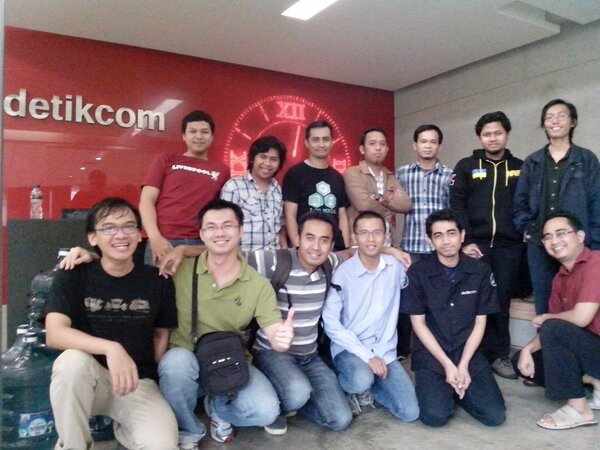 First of all, I'd like to say thank you to the speakers and attendees!
It's been a long time since we had our last meetup. It was April 2012, so it's almost a year. This time, I try to coordinate the meetup. Find speakers and venue, choose the date, and publish the information.
All of the speakers presentation materials and videos are already available online. Too bad this time we had a poorer video quality since the lighting and the video recording device was only using an iPad. Actually we are still looking for video team volunteer. So, any takers?
Here's a brief recap from the meetup.
The meetup was started on time. Sakti became the first speaker since Fauzan was late. Fauzan said he was burning the midnight oil, programming. Sakti gave a long and detail explanation on network programming. Sakti was giving quiz in the middle of his talk.
Sakti presentation material is available here, at his github repository.
Fauzan explained his web application framework called EmeraldBox. He showed his framework features. He also shared, how he developed an application in Sanitation Hackathon competition, using this EmeraldBox framework.
I think he won this competition on the 2nd. Fauzan presentation material is available here.
Then, it was my session. My talk is about sqlmap 101. So it's just introduction about sql injection, and how to use sqlmap to your web application.
I created my presentation with latex-beamer and you can find the PDF at my speakerdeck page.
Fanani, one of the attendees (hmm but he's also speaker for this meetup) asked a good question. How to create a secure web application?
The last speaker was Fanani. Fanani explained how fabric is useful to deploy your web application. Fanani presentation material is available here and the source code is available at github repository.
After all, It was a nice meetup. See you at our next meetup this April!